Here's Why It's Taking Whoopi Goldberg Weeks to Recover From Pneumonia, According to Doctors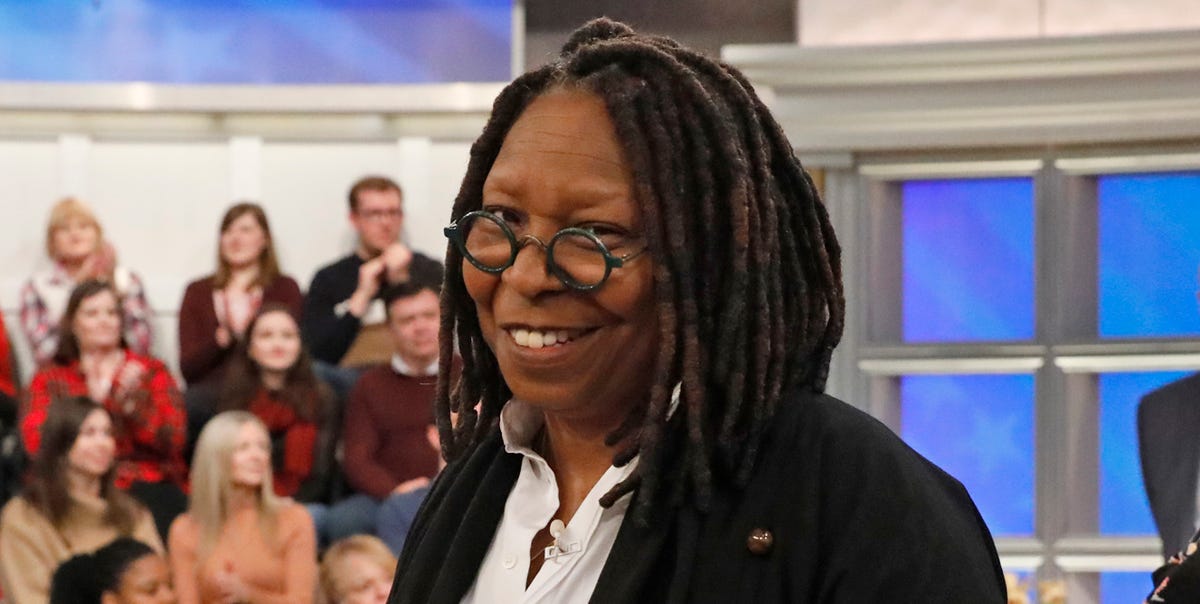 Whoopi Goldberg's absence on The View officially hit the one-month mark yesterday after the 63-year-old came down with pneumonia. The talk show regular last appeared on air on February 6, and her absence initially fueled rumors that she would step in as an Oscars host at the last minute.
Unfortunately, co-host Joy Behar confirmed on February 20 that Whoopi was way too sick to appear on their own ABC show, let alone the Academy Awards. "She's actually recovering from pneumonia. That's what she had. It's a serious thing," she said. "I saw her last night and she's very funny still and we had big laughs. She's getting there."
Fast forward two weeks later and still no Whoopi, but her seemingly extended recovery period is actually par for the course, according to doctors.
Pneumonia is an infection that inflames air sacs in one or both lungs, according to the Mayo Clinic. Bacteria, viruses, or fungi can all cause the inflammation and lead to symptoms like chest pain, coughing, fatigue, fever, and shortness of breath. The disease can become life-threatening in high-risk groups like adults over the age of 65, children under the age of 2, and people with compromised immune systems.
Doctors traditionally treat pneumonia with antibiotics (if it's bacterial), cough medicine, and fever and pain reducers. Hospitalization is sometimes necessary in severe cases, but even after checking out, patients need lots of rest and plenty of fluids.
Full recovery from community-acquired pneumonia (meaning cases caught outside a hospital setting) takes an average of 21 days in adults over the age of 50, according to a 2015 study published in Patient Related Outcome Measures. Another survey of 535 patients found that 64% still experience at least one symptom six weeks later.
Why so long? First, respiratory infections cause your body to produce a lot of mucus as a line of defense against the problematic germs — and your lungs don't do a very effective job getting all that stuff out after the fact.
"For recovery, mucus clearance from the respiratory tract and deep inside the lung is important, otherwise it will impair gas exchange," says Harihan Regunath, M.D., a Pulmonary Disease Specialist with University of Missouri Health Care. "Basically you have to cough it up and spit it up or else it has to dissolve by the white blood cells engulfing it and digesting it and clearing it. It's a very slow process."
And by slow, he means slow — up to three months depending on the severity of the inflammation, and age can slow things down even more. "Recovery in younger people is a lot easier than recovery in older people," he says. "Older people have age-related immune decline, so their immunity isn't as good as a 20-year-old."
That decline includes both a decrease in the number of protective cells overall and the speed of the immune response itself, the National Institutes of Health state. Older people are also more likely to suffer from pneumonia complications, according to the American Lung Association, so it's important not to rush the recovery process.
So while we haven't heard from Whoopi yet, we're wishing her a safe and (relatively) speedy recovery.
https://www.goodhousekeeping.com/health/wellness/a26750858/pneumonia-recovery-time/
P.S We are always on the the lookout for lifestyle solutions for our readers! If you are interested in safely detoxing, cleansing, and/or losing weight Visit Here for more information ALSO Get Our FREE Natural Cures Ebook Enter Your info Here https://blog.slimladytea.com/heres-why-its-taking-whoopi-goldberg-weeks-to-recover-from-pneumonia-according-to-doctors/

https://blog.slimladytea.com/wp-content/uploads/2019/03/heres-why-its-taking-whoopi-goldberg-weeks-to-recover-from-pneumonia-according-to-doctors-1024x515.jpg

https://blog.slimladytea.com/wp-content/uploads/2019/03/heres-why-its-taking-whoopi-goldberg-weeks-to-recover-from-pneumonia-according-to-doctors-150x150.jpg

Health & Wellness

belly fat,cleanse,detox,lose belly fat,lose weight,weight loss

Whoopi Goldberg's absence on The View officially hit the one-month mark yesterday after the 63-year-old came down with pneumonia. The talk show regular last appeared on air on February 6, and her absence initially fueled rumors that she would step in as an Oscars host at the last minute....

blogslimlady

slimladytea@gmail.com

Administrator

Resources & Tips For Women