The Healthiest Way to Eat Popcorn, According to a Nutritionist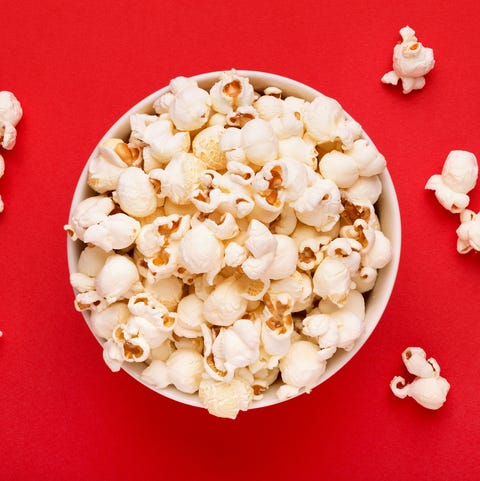 Getty ImagesVesna Jovanovic / EyeEm
Plain popcorn is a 100% whole-grain, plant-based snack filled with fiber.
You can eat a high volume for few calories, but watch out for sugary or saturated fat-filled toppings.
Consider buying single-serve bags for built-in portion control, or flavoring air-popped kernels with low-calorie seasonings like garlic powder or chili flakes.
Advertisement – Continue Reading Below
---
Crunchy, salty, sweet, savory, cheesy, and chocolate-covered: Popcorn can do it all. But as a 100% whole grain snack that's often coated in a hefty serving of hot butter, there's plenty of confusion on whether or not it's actually a nutritious choice when craving the crunch.
Here, we're talking all things popped-corn goodness — and finally answering a long-standing question: "Is popcorn actually good for you!?"
So, is popcorn healthy?
In a word, YES. Popped corn is just a vegetable turned into a sometimes-indulgent snack. By itself, air-popped popcorn is nutritious, not to mention filled with fiber and even some antioxidants thanks to the fact that it's a plant-based food.
That said, drizzling or mixing in oil, butter, cheese, salt, or chocolate can rack up added sugar and saturated fat. (Ahem, like when you're the movie theater and encouraged to pump melted butter on a gallon-sized container of popped corn).
So, the bottom line: The plainer the popcorn, the lighter (and lower calorie) your snack. But that doesn't mean that doesn't mean you have to stick to Styrofoam-y, chewable air.
Pick popcorn based on your desired outcome: Do you want a hearty snack? Adding ingredients like cheese can make it more filling. Or do you want a food you can graze on? You can eat more plain popcorn for a lower-calorie cost than other snacks.
No matter your style, give yourself permission to enjoy every bite. Since popcorn isn't as filling as, say, nuts, sometimes you just want to go all-in on the flavors that are glazed and coated in goodness. And that's okay! Resist the urge to beat yourself up, which will only lead to more guilt. Instead, plan your healthy meals and snacks for tomorrow, and opt for lighter versions mixed with indulgences (e.g., a bowl of half plain, half chocolate-drizzled).
Advertisement – Continue Reading Below
How much should I eat?
One, 1-ounce serving of popcorn is 3 ½ cups, and it's actually a "lower sodium" food with 140 milligrams or less per serving. (Since it's easy to confuse thirst and hunger, rule out the former by sipping at least 16 ounces of water before you dive into a bowl.)
Here's what else you'll get from this snack:
Nutrition Facts
Per 1-ounce serving plain popcorn:
120 calories
21g carbohydrates
1.2g fat
2mg sodium (0% DV)
3.6g fiber (14% DV)
3.1g protein (6% DV)
1.2g fat (1% DV)
Magnesium (8% DV)
Vitamin B6 (5% DV)
What's the best kind to buy?
As a general rule of thumb: Aim for snacks around 250 calories that pack at least 3 grams each of protein and fiber. In plain and flavored versions, cap sodium at 230 milligrams and saturated fat at 1 gram per serving. Look for options that keep the ingredients list as simple as possible with flavors made from real food.
Finally, consider choosing single-serve bags. While it may cost a little more than bulk buying, there's built-in portion control so you're not tempted to go back for seconds.
For a speedy trip to the grocery store, try these Nutrition Lab-tested picks, all of which are delicious, nutritious, and ready-to-eat in minutes:
How should I make it?
If popcorn is a mainstay in your house, try popping it up with the Cuisinart Air Popper — a Good Housekeeping Institute Kitchen Appliances Lab pick — so you can use as little oil or butter as you want.
Or, try these fun ways to play with popcorn that'll make it even easier to have a hearty, healthy snack:
https://www.goodhousekeeping.com/health/diet-nutrition/a25253252/is-popcorn-healthy/
P.S We are always on the the lookout for lifestyle solutions for our readers! If you are interested in safely detoxing, cleansing, and/or losing weight Visit Here for more information ALSO Get Our FREE Natural Cures Ebook Enter Your info Here https://blog.slimladytea.com/the-healthiest-way-to-eat-popcorn-according-to-a-nutritionist/

https://blog.slimladytea.com/wp-content/uploads/2018/11/the-healthiest-way-to-eat-popcorn-according-to-a-nutritionist-1022x1024.jpg

https://blog.slimladytea.com/wp-content/uploads/2018/11/the-healthiest-way-to-eat-popcorn-according-to-a-nutritionist-150x150.jpg

Health & Wellness

belly fat,cleanse,detox,lose belly fat,lose weight,weight loss

Getty ImagesVesna Jovanovic / EyeEm Plain popcorn is a 100% whole-grain, plant-based snack filled with fiber.You can eat a high volume for few calories, but watch out for sugary or saturated fat-filled toppings.Consider buying single-serve bags for built-in portion control, or flavoring air-popped...

blogslimlady

slimladytea@gmail.com

Administrator

Resources & Tips For Women